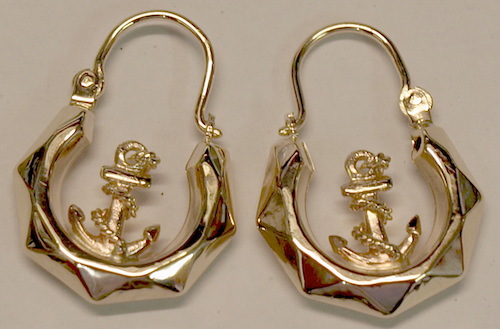 Throughout history those who ventured to sea have worn earrings and had tattoos acquired from distant lands. These earrings became a form of identity and also providing payment for care and respect given to a seaman in the unfortunate event they died at sea and there buried. The style of the earring today has changed little but in the past its design or variation, indicated the area that a seaman came from, thereby enabling notification of the seamans demise and for the return of the body and possessions. Hastings fisherman's creoles have a long established tradition, originally a plain crescent shaped creole with a plain anchor in the centre. Today the most popular design is a faceted creole which has a fowled anchor (cut loose with the rope still attached) as its central motif. These are worn by both men and women, a single young man wearing one earring in the left ear indicated they were unmarried and when married had a pair, one in each ear. This tradition carries on especially amongst the local fishing and UK coastal communities.
I am possibly the last makers of these earrings.
We make three sizes of fisherman's earrings using 9ct yellow gold only.

Size 1 for children or someone with little ear lobes.
Size 2 for most adults his, hers and yours. (Most common size)
Size 3 for those with larger ear lobes and deeper pockets as these have a much larger anchor.

To order please click here.